Teaching is so much more than creating lesson plans and delivering them to your students. The teaching environment is equally as important as what is being taught. Students will thrive in a space that they feel comfortable in, so if you're too focused on lesson plans, you may be missing a vital piece of the puzzle. A positive classroom culture is beneficial to the teacher and students as it creates a classroom where students feel part of something great.
What is Classroom Culture?
Classroom culture involves creating an environment where students feel safe and free to be involved. It's a space where everyone should feel accepted and included in everything. Students should be comfortable with sharing how they feel, and teachers should be willing to take it in to help improve learning.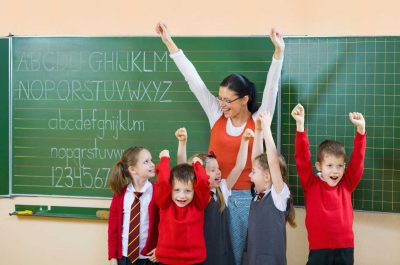 Why is Having a Good Classroom Culture Important?
Having a classroom that is welcoming and safe is the foundation for better learning. If students do not feel like they belong, this can prove to be a major hindrance to their education. A positive classroom culture empowers students to be part of their own learning experience and to take responsibility.
Positive Classroom Culture Strategies
Not sure where to start? Here are some examples of teaching strategies to help you achieve that goal of a positive classroom culture.
Set rules together – A positive classroom where children are free to be themselves does not mean there aren't any ground rules in place. Students should feel safe and respected, and a framework around that will help them do so. Encourage them to think for themselves, ask the children what kind of rules there should be. This includes setting up rules surrounding communication.
Turn problems into teachable moments – Too many times we see problems as a setback of some sort. Instead, we should be viewing these as teachable moments as something to build upon. Try to take a positive spin and get students interested in taking the steps to solve it. This not only develops problem-solving skills but also teamworking skills that are so vital in the classroom.
Change the setup – The way the classroom is arranged will have a massive impact on the way students work. There is no real rule on how your classroom should be set up, as this will vary depending on the age group, subject, space available and type of project being worked on. However, students should not feel segregated and should be able to work with others easily. Try changing this up halfway through the year for something different. Promote diversity and multiculturalism within your classroom décor too.
Chat with each student individually – Find the time to have a casual chat with your students individually to see how they're doing. If you find they are struggling with something in particular, whether it be a certain subject or personal strains with other students, then work out together how the problem can be solved. Also, use this opportunity to get some feedback from the student about being at school. What do they like the most? What do they not like, and how does it make them feel?
Give out "jobs" – Giving students responsibilities in the classroom not only makes them part of the day-to-day running of the classroom, but it generally helps boost self-esteem knowing they have been trusted with a specific task. This can be handing out papers, being the door holder, watering the classroom plants, etc. Change it up every week to give every student the opportunity to try every task.
Teaching is such a rewarding career choice as it involves making a positive impact in a young person's life. When you go into teaching, you're making a real difference. Take your skills further than you ever thought before by teaching abroad with Point-to-Point Education. Contact us to find out more about how to get a teaching placement overseas and explore new things whilst helping students do the same.
Teaching abroad is full of excitement and nervous anticipation. When it comes to those sorts of experiences, few other feelings come close. And it takes time to get used to…

Read More

How about a tax-free salary for up to two consecutive years while getting valuable international teaching experience?! Did you know that you can earn and save more when you relocate…

Read More