Teacher Travels – Spanish Hotspots
So many of our teachers ask us about travelling to Spain, so we booked a trip and have put together an itinerary of our favourite hotspots. We travelled to Ibiza, Mallorca, Barcelona and San Sebastian over 2 weeks and loved it!
Spain is a very easy getaway from the UK so make sure you add this to your bucket list and make it happen during your UK school holidays. When you teach in the UK you get holidays every 6 weeks so book a trip to any of these places and you will have the best time!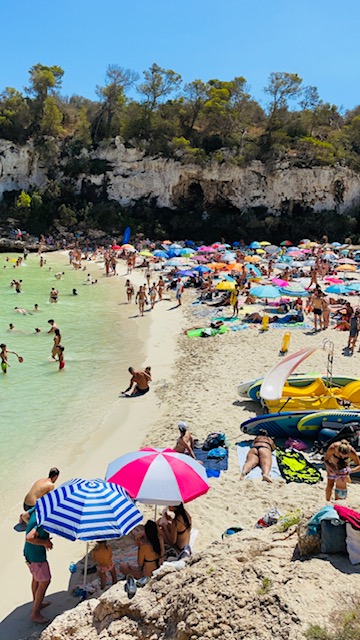 Ibiza
We started in Ibiza. This was an easy place to get around and beautiful! We arrived mid-August so the weather was perfect (around 31 degrees)
We stayed at Playa d'en Bossa which was really central and 10-minute drive from the airport. Here we had beaches and cafes and restaurants on our doorstep.
You definitely need a rental car in Ibiza to get around and explore. We only had taxis and found this quite tricky. The Taxi app didn't work for us and when we called to book one at the end of the day they often didn't turn up. There is so much to explore and so many amazing beaches you really want the freedom by having your own transport.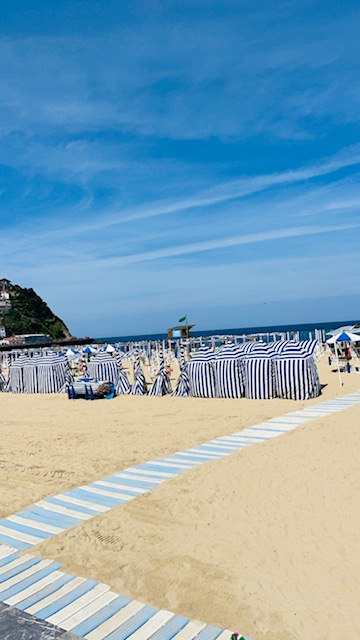 Beaches and dining out
We found some amazing beachside restaurants which were right next to beach clubs – this was the best way to spend the day. Our two favourites which we highly recommend were Sa Caleta Restaurant https://sacaleta.es/  (best seafood Paell we found) and Los Enamorados   https://losenamoradosibiza.com. The beaches here were incredible. If you are at Sa Caleta, take an umbrella and get there early as it's a tiny little beach that gets super busy. At the beach near Los Enamorados you can hire sun loungers and umbrellas so can stay there all day.
We checked out the old town in Ibiza. This is a must-do. You can walk up through the old town and have views of the city from the top. Late night shopping (open until 11pm) and lots going on. This was about a 30min walk from where we were staying.  Lots of restaurants, cafes, and things to see.  We had a delicious dinner https://www.ibiza-spotlight.com/restaurants/sescalinata-ibiza where we sat on beanbags and could people watch and enjoy the view.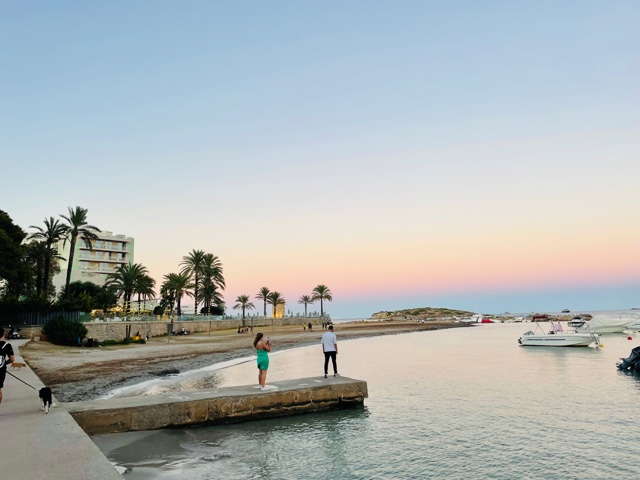 Mallorca
Next we visited Sineu in Mallocra. We flew into Mallorca from Ibiza (45mins) picked up the rental car from the airport and made our way to Palma for a look around the city. We stumbled across Rose Velvet Bakery – a must-do if you are in the region. https://rosevelvet.es  Palma is the place to go for city shopping. We weren't there for that so just stopped off on our way to Sineu.
Driving is on the left but the roads seemed OK and not so busy so it was OK – quite a few tight corners in Sineu so good to have a passenger with you to double-check your corners!
Sineu is a gorgeous little town with narrow little streets and lots of cafes and restaurants. It's in the middle of the island so great access to the beaches and mountains.
On our first day here we did a 10km hike from Deia to Port Soller. It was beautiful and not too hard going. We left the car at Deia and walked to Port Soller for lunch, caught the tram back to Soller then a bus to Deia again. Lovely views on the walk and well signposted.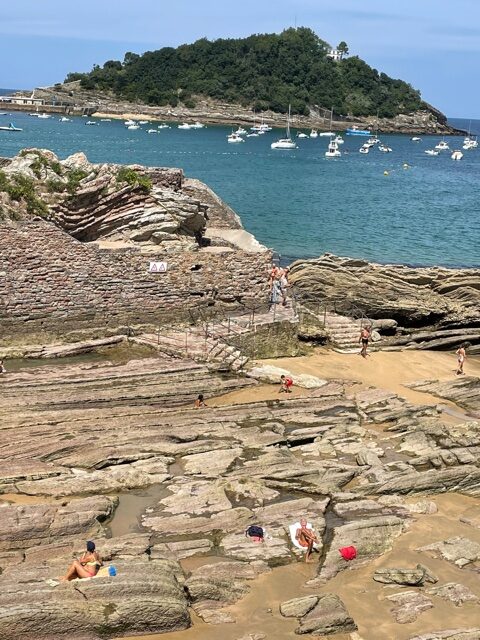 Sineu Markets
The next day we visited the Sineu markets (biggest markets on the island each wed) https://mallorcantonic.com/sineu-market-mallorca/. They had loads of stalls, fresh food and live music, A must-do when visiting. We then went to Santanyi and looked around the markets there on our way to the beach. https://mallorca-touristguide.co.uk/markets/santanyi. We really just stumbled across these on our drive to Cala Llombards. We LOVED this beach.  Bright umbrellas, green clear water and a beautiful sandy beach. Sun loungers and umbrellas could be rented but you need to get there early!  All the beaches here are amazing so you really can pick and choose but this was one of our favourites.
Soller
After our 3 days in Sineu we headed to Soller for a different vibe. We stayed in a Finca Cas Sant and here we had access to all the hikes from our doorstep. We did a lovely 2.5 round trip walk from Soller to Fornalutx. Here you went through little villages and it gave good views of the mountains. We ate our way around Soller as there were so many great cafes and restaurants! Everything really comes alive at night and most people eat out around 9pm. Our favourite pace was Cala Deia – a beautiful restaurant overlooking the water where people were swimming, boating and jumping off the rocks. You can also walk here from Soller as the drive it very windy! You need to book here weeks in advance https://www.abc-mallorca.com/cas-patro-march-cala-deia/.
Soller was really about hiking swimming and eating for us, so if this is what you like doing, definitely check it out.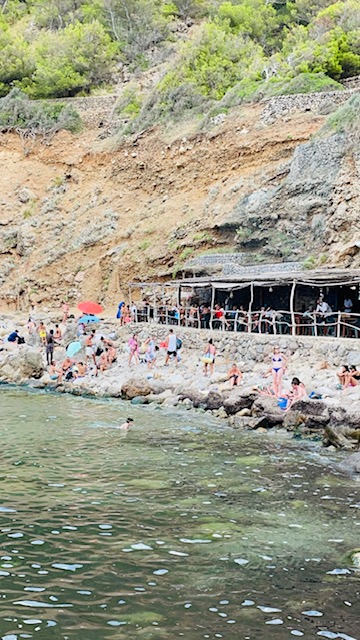 Barcelona
We then took a quick 30min flight from Palma to Barcelona for a 48-hour trip. Here we stayed at Central Hotel which is in the Gothic Quarter and the perfect place to access everything! We walked through the quarter and visited the Cathedral https://catedralbcn.org/. The buildings here are incredible! You really can just wander through the streets and get lost amongst it all. There is lots of street music, performers and good cafes and restaurants on every street.  We also visited the Gaudi buildings and went through Sagrada Famila https://sagradafamilia.org/en/. Here you can see the most incredible architecture and beautiful stained glass windows.
We loved the food markets, Mercato Boqueria http://www.boqueria.barcelona/home they are definitely worth a visit. Such a good vibe and it's all about fruit, seafood, meats, breads, nuts and olive oils. Head there for lunch if you can!
Pack good walking shoes as it's a huge city and you just find yourself walking all day!
El Born
On our last day, we stumbled across a whole new area which ended up being our favourite side of the city. This was the El Born area.  Loads of little shops, tapa's bars, and restaurants. It had a good trendy vibe. We had our best cocktail of the trip at http://drstravinsky.cat/. You do need to queue for a little bit but it's worth the wait. We also had our best Barcelona meal here at Llamba, there are so many tapa bars to choose from but this was our favourite https://llamber.com/
San Sebastian
We then caught the train to our last Spanish hot spot – San Sebastian. This was 6 hours train journey but nice to rest your feet after all the walking!
We stayed at Villa Soro which was an 8min walk into the old town and beach. We did a great walk on day one from Vlilla to Mount Urgull. Here you walked along the esplanade and up the mountain to check out the fortress Castillo de la Mota.  Here you got great views of the city, port, and coastline.  We also found a nice little café on the way up so another chance to stop off for a little coffee!
We then wandered through the old town and then continued around the coast. Again, so many tapa bars to choose from on every corner! Our day here was a little overcast but still warm enough but our plan of lying at the beach on sun loungers didn't eventuate.
The next day was beautiful at 29 degrees, so we took some bikes and cycled along the bike tracks to the end of the esplanade and had a swim. There are loads of bike paths so we felt safe and found our way easily. We grabbed a baguette, some ham and peaches and sat on the beach with our books and enjoyed our little picnic. The water was so clear and warm we stayed in for ages. This was the perfect day and exactly what we had imagined of San Sebastian.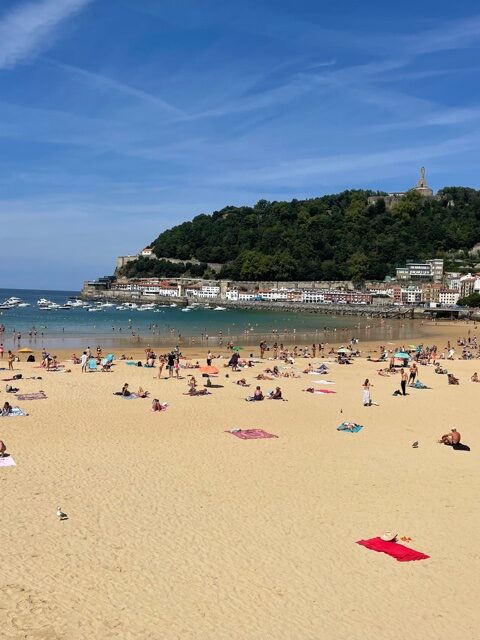 Next we're heading to the South of France, another location lots of our teachers ask us about. Watch this space for more info, tips, and recommendations.
Thinking of teaching in the UK next year? Work the week and enjoy your weekends in Europe. Get in touch with Point to Point Education.
The 6-week school holiday break might be over in the UK, however we're still giving you our top travel tips when it comes to exploring Europe. Europe is an easy…

Read More

Next on our 'teacher travels' tour was Brussels! This is a nice easy trip from the UK and you could even do it for a weekend! Whilst the 6-week UK…

Read More