The 6-week school holiday break in the UK is the best time for teachers to go travelling. Europe is on your doorstep and summer is the perfect time to explore.
This year we have explored some great regions in Italy for you and below you will find some good tips and recommendations. These are all easy spots to get to from the UK and are worth your while!
Day 1 – Ortigia
From Naxos we took the 45-minute flight back to Athens then an hour flight to Catania airport. Here we picked up the rental car and drove 40 minutes to Siracusa. This was a hectic drive, very busy, with cars, scooters, and taxis everywhere but you really need a car here so just got in there and did it.
We booked an Airbnb in a great spot in Ortigia. We loved this side of town. We were surrounded by markets, seafood, fruit, spices, homewares and cafes everywhere so perfect for travellers like us!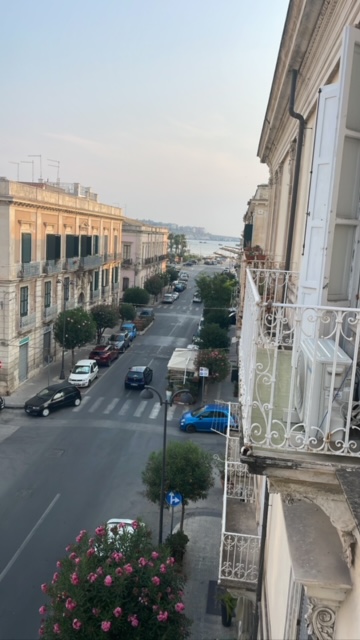 The first day we just explored the island on foot. We took off early before it got too hot and just roamed the beautiful streets. There were lovely narrow windy streets with beautiful old buildings everywhere. We wanted photos of everything as it was all so incredible. There are little hidden shops amongst it all and then at the end of what feels like every street were the most beautiful churches and cathedrals.   These were worth going in as just the sheer size of them leaves you in awe. Some asked for donations on entry so have cash on you.
We then made our way to the Castello Maniace. It was constructed between 1232 and 1240 by the Emperor Frederick II. It bears the name of George Maniakes, the Byzantine general who besieged and took the city in 1038. Originally, one could only enter the castle over a bridge spanning a moat (now filled). A feature of the castle is the decorated portal. Today the castle is open to the public and is a local tourist attraction in Syracuse.
This is €10 a ticket but a great activity.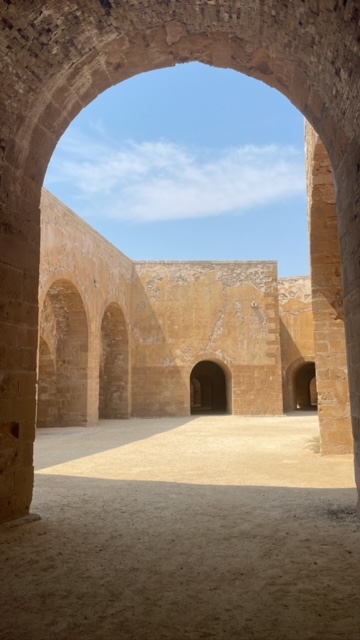 We then carried on past the beaches, if you have time, make sure you stop off for a swim. Take an umbrella with you if you can as there is no shade and by the time we got there, it was 36 degrees. It's rocky so wear good shoes!
After our quick dip to cool down we kept wandering the streets. There was just so much to look at!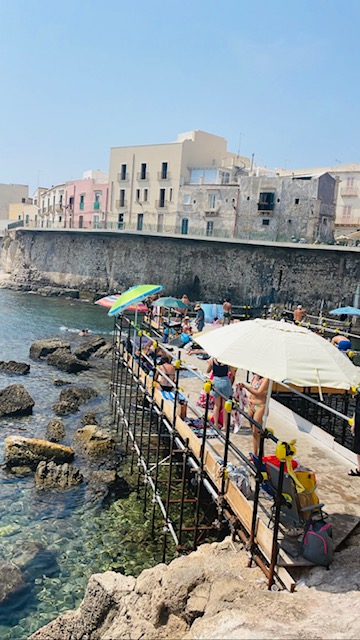 We then stumbled across a little Italian puppet show hidden down one of the alleys. To be honest we were just so hot and needed some aircon so bought a ticket for €10. It was at the Teatro Dei Pupi. It was a 45-minute puppet show all in Italian so we couldn't understand it but it was still a nice little experience. The theatre was really cute. It's a tradition that has been running for many years here and something I hadn't come across before.
Day 2 – Nota & Marazamemi
The next day, we wanted to try the must-do breakfast while in Sicily, the Granita and Brioche. This is delicious and so refreshing. I didn't really think bread and fruit/ice would work but it was so good. Definitely try this when you are visiting. The warm brioche is dipped into the granita. Our favourite was the pistachio.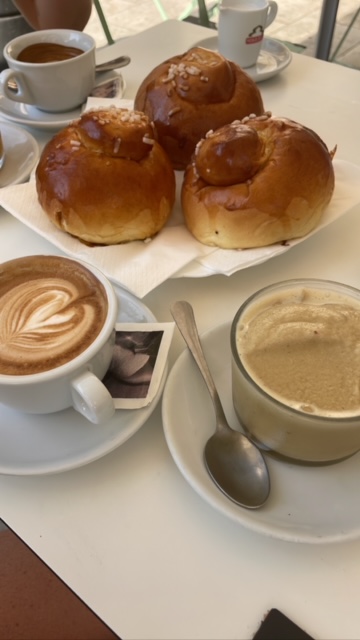 We drove out to Nota next. I loved this village. It was magical with the beautiful buildings, architecture and old churches and cathedrals. Everywhere you looked you were amazed. It was one main street with fairy lights and people just wandering with their gelatos and coffees. It is quite a creative arty village with lots of exhibitions and concerts being held. It was about a 45-minute drive from Artica so nice and easy and 100% worth a visit. Noto is a city in southeastern Sicily, Italy. It's known for its baroque architecture, including the reconstructed 18th-century Noto Cathedral. Across the street is the Palazzo Ducezio, now the town hall, with the Hall of Mirrors.
From here we drove to Marzamemi which is a little fishing village not too far from Nota. It has lots of character and is a very little village. Full of restaurants and bars right on the water. The name comes from 10th century Arabians and means turtle dove bay. This was the perfect spot to sit down for a cannoli and coffee for afternoon tea.
Marzamemi was home to a tonnara (tuna fishery) – tuna fish were caught and processed here. It's believed the first iteration of the tonnara was built by Arab inhabitants around 1000, and the village grew up around it in the 1600s. The tonnara officially closed in 1969, but you can still see the village's past in the old buildings, fishing boats, and quiet harbour.
Day 3 – Scopello & Surrounds
The next day we drove 4 hours to Scopello (with a stop off at the outlet shopping centre along the way)! We first visited Taormina.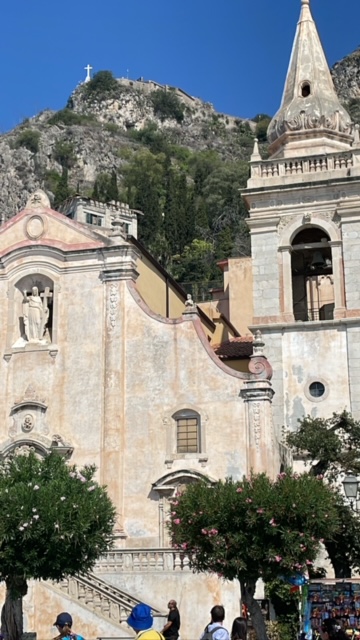 It's a bit like Positano but I wouldn't say quite as picturesque. People love it here and it's a real tourist hotspot. For me it was too busy. Although nice to spend a few hours there walking through the village, it just had the big shops you see everywhere like Pandora and all the usual souvenir shops. It was a nice drive there; you do pay a toll on entry, and it has nice views from the lookout.
Settled on a hill of the Monte Tauro, Taormina dominates two bays below and on the southern side, the top of Mount Etna. We drove past Mount Etna on the way.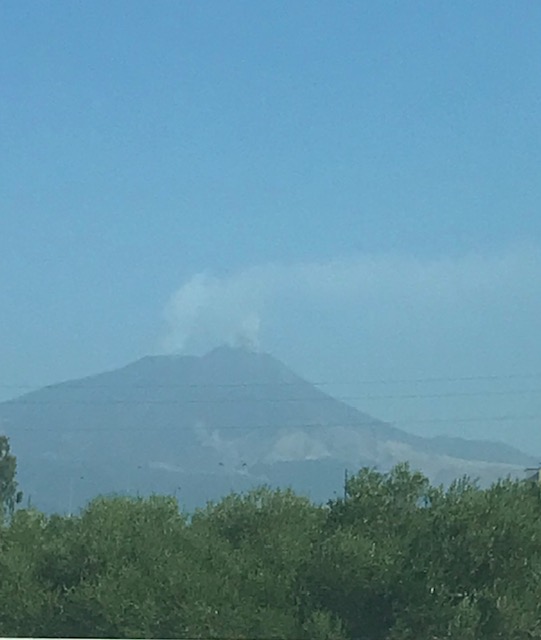 As we were staying in Scopello, a tiny village perched on top of a hill in the North West of Italy. It is known for its stunning sea views and beautiful waters we walked 10 minutes down to the Tonnara Di Scopello. The Tonnara Di Scopello is a testimony to tuna fishing and the history of the Mediterranean . It's also where they filmed Oceans 12. There is a tour you can do of the old village, they run these in Italian and English. There is a small café and beach with sunbeds and umbrellas. It costs €12 to get in.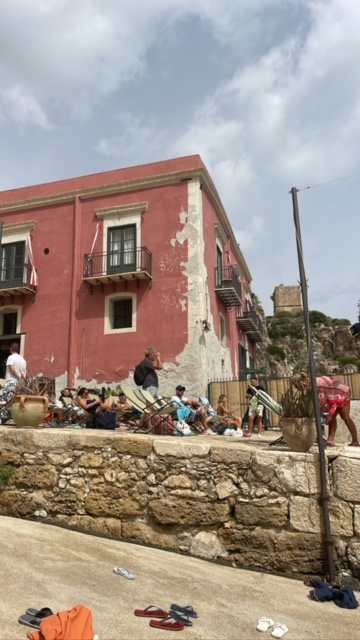 We then drive out to Trapani, this was only 40mis or so and we visited the old town and walked along the esplanade.
Trapani is a city in western Sicily with a crescent-shaped coastline. At the western tip, offering views as far as the Aegadian Islands, is the 17th-century Torre di Ligny watchtower. It houses the Museo di Preistoria e del Mare, with archeological artifacts. North of the harbor, the Chiesa del Purgatorio church holds wooden sculptures. It was a really nice place to walk around and read about the history of the buildings. It's also where cruise ships dock so it was quite busy with tourists. Not somewhere I would stay but was worth a visit for a few hours.
We then went to visit Enica. Towering over the west of Sicily at 751m above sea level and often covered in its own personal cloud, Erice is a wonderfully preserved Mediaeval town. It was a windy hairpin road up which took about 15min, you can also catch the cable car up from Trapani or hike.  It was quite a large village that took about 2 hours to get around. Lots of little cafes, shops, and restaurants. Lots of people were up there so it was quite hard to get a car park. Great views from the top where you are above the clouds looking down. We had a look at Erice Castle.According to the ancient Greeks, the castle was dedicated to the goddess Venus, hence its name "Castle of Venus." It is believed that the site was initially a temple dedicated to the goddess before being transformed into a fortress by the Normans in the 12th century.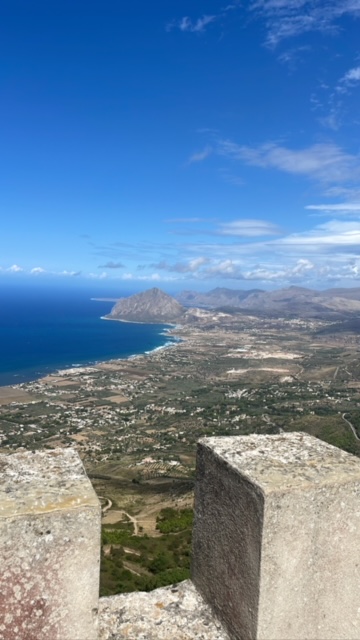 We really enjoyed our trip to Sicily and got to experience the busy life in Ortigia and then the simple country life in Scopello. I do prefer the quieter areas which are more rustic, but I do recommend getting to both regions in over a week or so as you really do experience different landscapes, food and people.
A great place for a midterm break over the UK school holidays and something to add to your bucket list.
Live and work in the UK
Looking to supercharge your teaching career in the UK? Get in touch with the friendly team at Point to Point. We place teachers in schools all over England.
Next on our 'teacher travels' tour was Brussels! This is a nice easy trip from the UK and you could even do it for a weekend! Whilst the 6-week UK…

Read More

The 6-week school break in the UK is the perfect time for teachers to travel around Europe. Whilst the holidays are coming to an end, we always get asked where…

Read More