Teacher Travels – Discover France
The last instalment for the summer 2022 Teacher Travels series gives you some tips on 3 hotspots in France.  Lots of our teachers ask about going here for a long weekend or mid-term breaks so we have done some travelling and put together some recommendations from 3 locations in France, which are easily assessable from the UK in your school holidays. Here we cover Biarritz, Bordeaux, and Paris.
France is a very easy getaway from the UK so make sure you add this to your bucket list and make it happen during your UK school holidays. When you teach in the UK you get holidays every 6 weeks so book a trip to any of these places and you will have the best time!

Biarritz
We spent just two days in Biarritz. We loved it here! It was a trendy little surf town with loads going on.
The first day we arrived we spent just walking around the village. There are so many lovely little boutique shops and cafes. It really is just a town for strolling around and visiting the beaches.
We walked from the town centre to the lighthouse which you can see from the Promenade. We then continued around the coastline and stumbled across a cute little beach kiosk and shared some pate and a glass of wine. It looked as though it was where all the locals hung out and had a great vibe and was directly opposite the beach. For dinner we found Marguerites – we had the best pizza of the trip here to 100% check it out!
On day two we hit some good weather so decided to have a beach day and do a little walk. We went in the opposite direction this time and took the coastal route through to another beach kiosk called Debololo which was the perfect spot to sit down, watch the surfers and have some lunch. This is another definite place to visit.
We then had a few hours at the main beach, swimming reading and relaxing. The beach was beautiful, safe and the water was so clear and refreshing.
A must-do is also the food markets in the centre of town. Try to save some room so you can have some lunch here as the food was incredible. The markets are open each day from 8am-2pm.
Biarritz is a definite place to visit in your school holidays. It's a vibrant, busy and awesome surf town that you would enjoy all year round.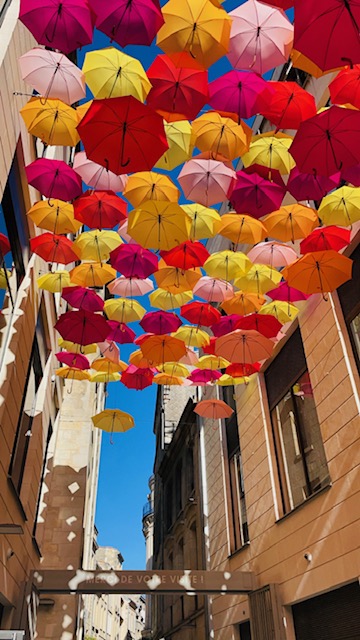 Bordeaux
Next we took a 2-hour train ride to Bordeaux – very easy and direct. We loved this place, it felt like a little Paris. A lot going on!
We arrived at lunchtime and we were only here for 2 days, so we hit the streets on foot. We stayed central in an Airbnb and walked a 10km loop through Darwin. This is the old military barracks and is now a trendy area with lots of co-working spaces, bars, cafes and shops – it has a very good chocolate shop which is worth a visit.
A must-see in Bordeaux is the Bassins des Lumieres .It was the highlight of our time here.
It's an amazing light show. There were to exhibitions Vinese, de Canaletto a Monet and Destination Cosmos l'ultime defi.  It was €15 to enter and well worth with – a must-do and definitely our trip highlight.
While walking through the city we also went to Miror d'Eau also known as the water mirror. The "Miroir d'Eau" is less than 20 years old but located just across from a monument nearly 3 centuries old, it has become one of the city's main attractions. Located across from Place de la Bourse, between Quai de la Douane and Quai Louis XVIII, this spectacular pool, designed by landscape artist Michel Corajoud, alternates a mirror effect and artificial misting in an extraordinary way.
Bordeaux is really a city for exploring on foot – so much to see and do and a place to add to your bucket list! Make sure you do this on one of your half-term breaks!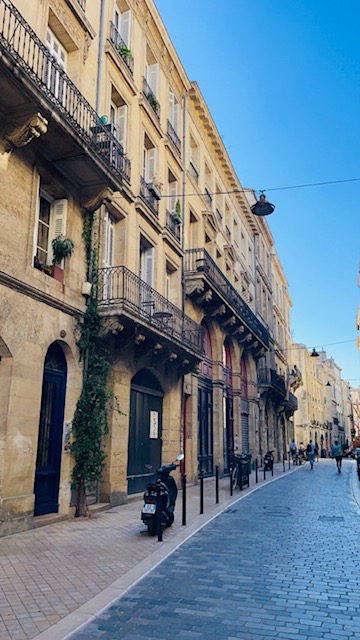 Paris
Our last stop in France was Paris. We had just 2 nights here so a quick trip, but as so many of our teachers here ask us about going here, we have done some exploring for you!
We got the train here from Bordeaux which was an easy two-hour journey.
As soon as we checked in to our accommodation in St Germaine we hit the streets. Walking is our favourite way to get around, as we find this is the best way to see new places. We really like St Germaine as it has so much going on. We were in the Latin quarter and at night it really comes alive with the restaurants and bars filling out onto the street.  We walked through the cute little streets and found our way to Marché Bastille, which is the biggest market in Paris. It's mainly fruit, seafood and a flea market but it had a good vibe and there was plenty of sightseeing to do along the way.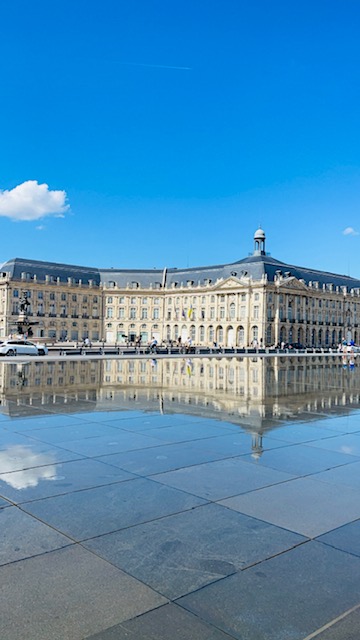 We stumbled across the coolest little jazz club for dinner. Chez Papa was awesome, we had live jazz playing while we ate dinner. It was very cool. You would normally have to book to get a table here, we were just lucky.
What we loved about Paris was the eating and drinking culture. You really can just find a bar on the side of the street and watch the world go by. Everywhere is so busy but you don't have to wait long for tables.
The other great thing we loved was all the patisseries. Our favourite was https://www.instagram.com/maison_isabelle/?hl=en we think the best croissants in Paris were here, so check it out!
On day two, we wandered the streets again and did the usual touristy things, The Louvre, the Eiffel Tower, The Arc de Triomphe, and that filled most of our day. If you are like us and enjoy walking, we clocked up 20kms on this day. St Germaine is a place where you really can just sit and soak up the sights and enjoy sitting on a drink and people watch.  It's good to roam through the streets at night as the atmosphere is so good. We found that the prices of things were not too bad if you don't eat out for every meal. It's nice to just grab a baguette and a coffee on the go so you can carry on sightseeing. It can be difficult to get a taxi in peak hour and Ubers were not really available so if you need to be somewhere on time it's good to rebook your ride.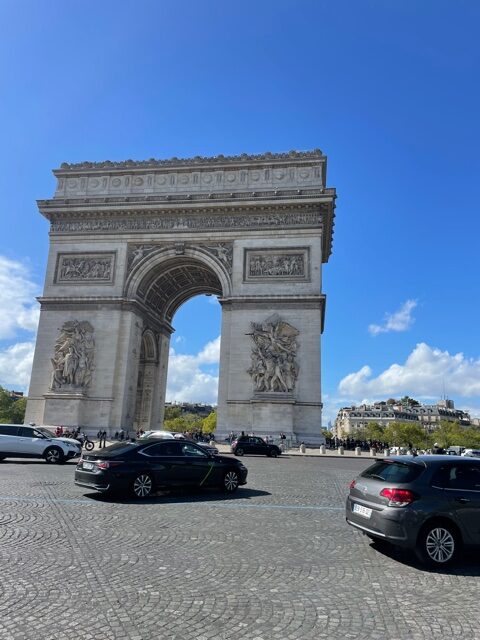 We got by in most places with our limited French as most people had a good level of English, so we were able to communicate. We had great service everywhere we went and had such a good two days here. It was a bit too quick so make the most of your half-term break and try and get at least a week in.
Teaching in the UK really gives you the best of both worlds. You can teach in great schools across England and travel Europe during your breaks. If you're interested in teaching in England in 2023, get in touch with the Point to Point team today.
We hope these travel blogs have helped and given you some great recommendations and tips on a variety of hot spots you can explore!
Next on our 'teacher travels' tour was Brussels! This is a nice easy trip from the UK and you could even do it for a weekend! Whilst the 6-week UK…

Read More

The 6-week school break in the UK is the perfect time for teachers to travel around Europe. Whilst the holidays are coming to an end, we always get asked where…

Read More