It's that time of year again when our Point to Point Education teachers start asking for recommendations on where to go on their 6-week school holiday break.
This year we have explored some great regions for you and have put together some fantastic recommendations. These are all easy spots to get to from the UK and are worth your while!
Athens – 1.5 days
We arrived at the start of August to try and miss some of the summer crowds. It was a good time to come as temperatures had also dropped a little and we were walking the streets in around 28 degrees.
We wanted to see all the landmarks but skip the queues so we bought an online pass through Get Your Guide. This gave us access to The Acropolis and Parthenon, Temple of Olympian Zeus and Aristotle's School. We found going later in the day there weren't as many people, and it wasn't so hot (note: there are a few stairs to climb). These sites were incredible, and you need to make the effort to visit them. We walked from site to site as this was also a good way to see the city.
We also stumbled across the changing of the guard. This takes place every hour by the military unit whose members stand proudly in perfect stillness in front of the Parliament. At 11 am each day they are in traditional dress so it's worth getting there for that.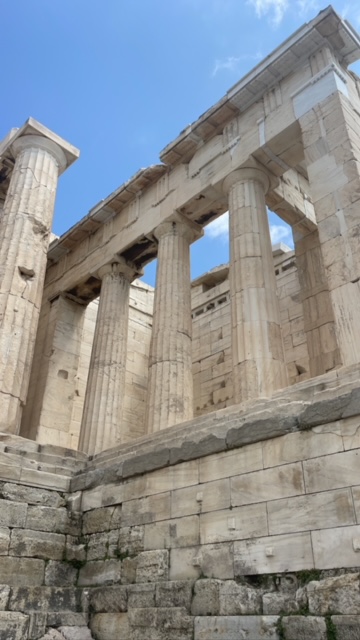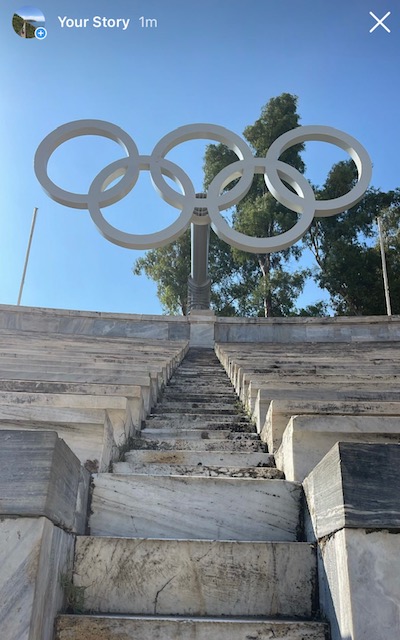 We strolled through the shopping strips and really enjoyed Monastiraki Sqaure flea market.
Adrianou Street is a great place to visit. Brettos Kydatheneon and Adrianou Street are other main streets in the Plaka named after the Emperor Hadrian, and are worth walking through to soak up the culture and get a feel for the ancient town.
We didn't need to use any public transport here as we stayed centrally so were able to walk everywhere. Wear good shoes as we were doing 27000 steps per day on average.
My highlight was going to the Panathenaic Stadium. It just felt incredible to be there and to get a feel for the size of it and what went down there all those years ago.
The food here is so good, you really can't go wrong! Everywhere you go the food is fresh, local and full of flavour. It's so well priced and you have options on every corner. I think Greek food is now one of our favourite cuisines. Make sure you try a traditional cheese pie!
There are also so many good bars on every street, our favourite was Bretto's. It was established in 1909. This historic lounge is also Athens' oldest distilleries. The owners make their own liquor in so many flavours including lemon, cherry, masiha, and the classic ouzo.
Milos – 2 days
We caught a quick 40-minute flight from Athen to Milos for a few days on the island. We LOVE it here!
We hired a rental car which we highly recommend as you need to get out and about and explore the island. The roads are narrow and windy but that's all part of the experience.
We stayed at Mandrakia which was right along the coast. We had our own little beach which we shared with only a few of the locals. There was a nice kiosk and a great restaurant here which is a must-do on the island. If you like seafood, try Medusa Restaurant. They don't take bookings so get there early!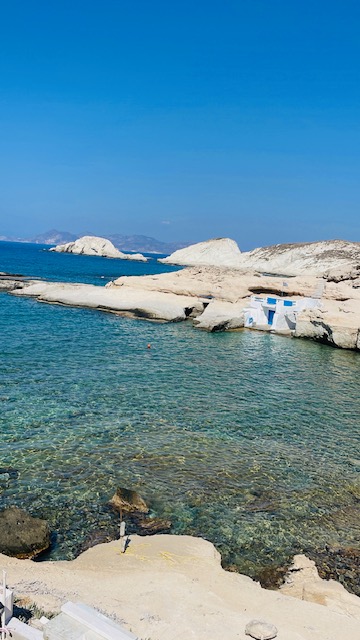 We left early to drive up to Plaka. This is a cute little village which we highly recommend. It has amazing views of the island and you get a real feel for Milos and how rustic it all is. A great breakfast spot is The Mosaic.
We then walked up to the castle for more amazing views. It only takes about 20mins so worth it. Make sure you do it early though before it gets too hot.
We stopped off for a cake and coffee a well-known café on the island which is a must-do – verry traditional and the cakes were delicious – Palaios Coffee and Pastry.
After looking out from the top of castle we noticed the most turquoise water so wanted to head down there for a swim. This ended up being our favourite beach on the island. Such clear water and not too crowded. The drive down was a little interesting but worth it once there. Definitely check out Plathiena Beach.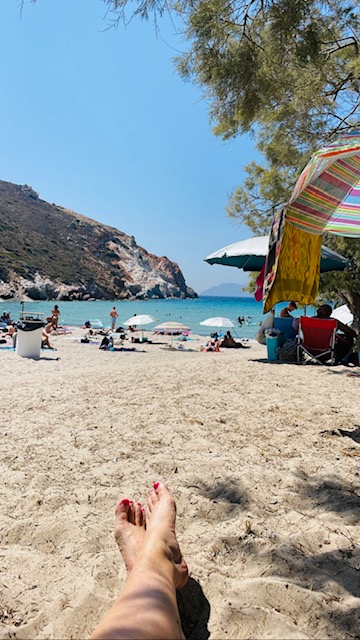 Another little activity that we recommend doing is to visit The Catacombs of Milos dated from the 1st-5th century. They are among the three most important of the 74 discovered worldwide together with the catacombs of Rome. It's a little 15 min tour and cost only 4 euro.
Klima is another must do in Milos. This is one of the oldest parts of the island and has a row of colourful boathouses and our favourite restaurant. The tables are right on the water and the food was the best of the trip. Stroll down to Astakas for fresh seafood and tasty desserts.
On day 2 in Milos, We headed to the beautiful little village Tripiti.
On the northern side of Milos, Tripiti is a small picturesque village with great views of the sea, well-known sights, accommodation options, and a handful of restaurants, just two kilometre south of Plaka. Tripiti, earning its name from its soft volcanic rock formations, is a village boasting wide landscape views over the Gulf of Milos (facing Klima beach) due to its altitude and placement on the side of the hill.
It was a very quiet and quaint little village with a few cafes and lovely streets to wander through.
We then went to Pollonia for a quick coffee and a stroll around. This was really a street full of restaurants overlooking the water. Nice to check out but not a lot to do there.
The highlight of the day was visiting Sarakiniko Beach. Sarakiniko Beach is arguably the most Instagrammed beach in Greece and it's the most popular beach on Milos Island – and as soon as you get there, it's easy to see why. With the white rock formations and azure waters, it's the perfect spot for kicking back and relaxing or exploring and being adventurous.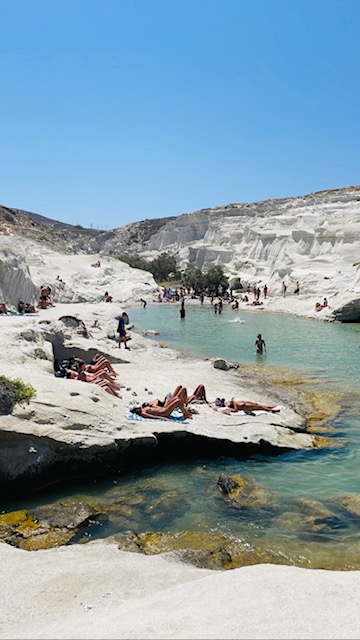 Paros – 2 days
On day 1, we took the ferry from Milos to Paros which took just over an hour. We picked up the rental car and went up to Naoussa which was where we were staying. On the way, we visited a small village called Lefkes. This was the cutest little town, very quaint and traditional. It was very busy with tourists and took us about 4 hours to walk around. Lefkes was the first capital of Paros, the village was built in the mountains to be protected from pirates.
Lots of nice little cafes and shops. The Church of Agia Triada is also located here and is worth a visit. Naoussa is a very busy area of Paros and full of restaurants – it's all about the seafood and beaches here. It's so picturesque with the bright white buildings and bright bougainvillea. Really beautiful.  It is a place for eating out and swimming and if you do want to go exploring you really need a car.
We drove around the island on the coastal route and stopped off at Marpissa, Pounda, Golden beach, Dyyos and the small fishing village Pisso Alyki. All beautiful little spots where you can hire sunbeds and beach umbrellas and really relax. The water at every beach is so clear and the sea water temperature in August is perfect. The days are still around 32 degrees so good to be near water.
We venture into the main area of Naoussa for dinner. It's really hard to choose a restaurant as they are all so good but we ended up at Restaurant Sigi Ikthios and had freshly caught fish of the day with a nice Greek salad – you cannot beat the salads on this island!
On day 2 in Paros, we ventured down to check out the port area of Parikia. Parakia is the capital of Paros. We were expecting the usual busy port area just restaurants and lots of people but wander into the back streets and you will be pleasantly surprised.
There is a maze of beautiful little streets filled with boutiques and cafes, whitewashed buildings with bright bougainvillea throughout.
We looked though the Monastery of Panagia Ekatontapilian. It is one of the best-preserved Paleo-Christian monuments in Greece. Definitely worth a visit. We also stumbled across Frankish Castle. It's hidden amongst the back streets. Built in 1260 by the Venetian Duke of Naxos Marco Sanudo, the Frankish Castle is listed as one of the sights to see in the old town.
As always, we needed to sto for a coffee and bite to eat, so we visited Cafe Symposium – so good. Nestled under the trees to give us some much welcome shade. It has a great menu, good coffee, fresh salads and a long list of cocktails. It's out of the hustle and bustle of the main streets, so a nice spot to sit and rest the legs after all the walking that comes with travelling the Greek Islands.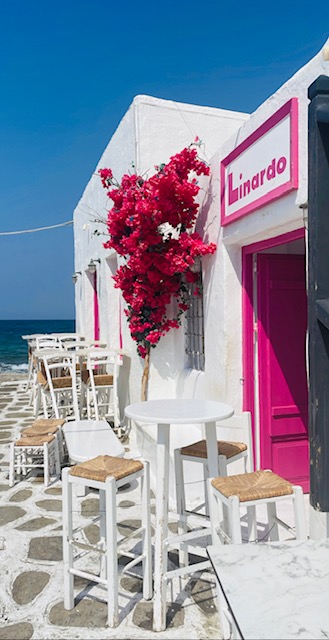 We then drove over to Pounda and took the ferry over to Antiparos. Antiparos is located in the heart of the Aegean Sea, right next to Paros island and belongs to the Cyclades island group. This was just a 6-minute ride and cost 1.50 euro each way. You can also leave from the main port and it takes about minutes to cross. You also take your car over, but we just walked it. There are lots of little shops, bars, cafes and restaurants. It's quite expensive shopping but a nice little half-day trip. There are old cobbled streets, white washed buildings and lots of ambience.
Naxos – 2 days
We took the ferry from Paros to Naxos, it was about a 45-minute trip. It was hectic with so many tourists and no systems in place but we made it. We wandered the port area (Chora) and stumbled across the back street markets, old churches and lot of little cafes.  There was lots to look at and we spent a few hours just strolling through the streets. We then walked up to the Temple of Apollo.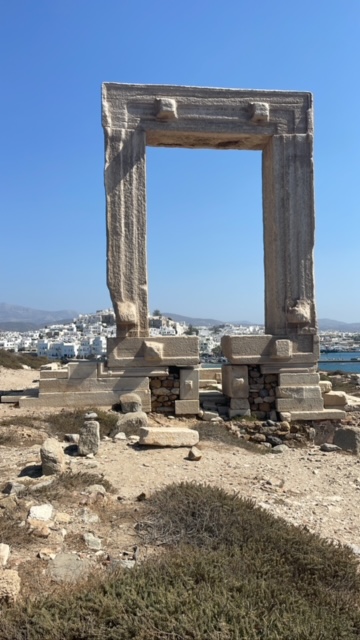 Its construction was initiated by the tyrant Lygdamis in the 6th century BC, according to the specifications of the temples of Olympic Zeus in Athens and of the Goddess Hera on Samos.
The temple was built with the first arrival of Apollo to the region. It was built by Trophonius and Agamedes, two famous architects in Greek mythology, out of rocks. It is worth a wander up, and there was a nice spot to swim along the way.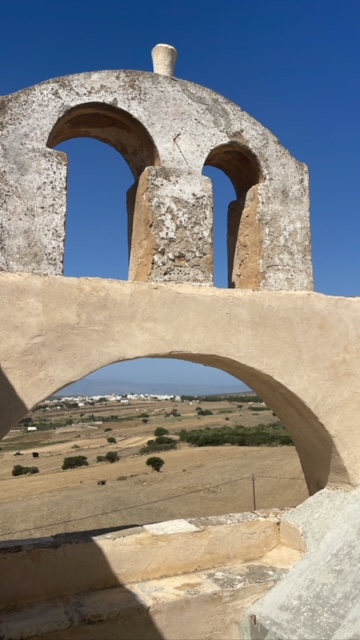 We then picked up the rental car – 100% need one here. We drove up the mountains and to our accommodation, checked and headed out to Melanes. It was the tiniest little village with our favourite restaurant of the whole trip. It was a family-owned tavern with the best food, ambience and views. Great service and very traditional – highly recommend!
On day 2, we headed out for the day around 10 am and started at Halki. This was a lovely little busy village full of cafes, bars, restaurants and shops. We wandered the streets and found a path surrounded by fruit trees leading to a little hidden church. All cobblestone and beautiful old buildings. You can easily spend a few hours here soaking up the atmosphere.
We then drove 15 minutes to Filoti. One of the most famous and beautiful villages of the island is Filoti in the Tragea region, which is well-known for its olive groves and Byzantine churches, both of which are also found in the village. There wasn't a lot to do here but it was nice to wander through and have a bite to eat.
We then ventured up the steep mountain to Apiranthos. It is one the most picturesque villages on the island. It is located 26 km from the capital, between two green valleys, at an altitude of 650 meters.  A nice activity to do with great views and places to stop off for a cold drink. We hit 38 degrees up here, so you definitely work up a sweat!
We then checked out the sacred Temple of Demeter. Demeter was the Ancient Greek goddess of the harvest. She was a very important goddess to Ancient Greek people, who farmed a lot of their food. It's quite a busy tourist spot so get there early and have cash with you for tickets on entry.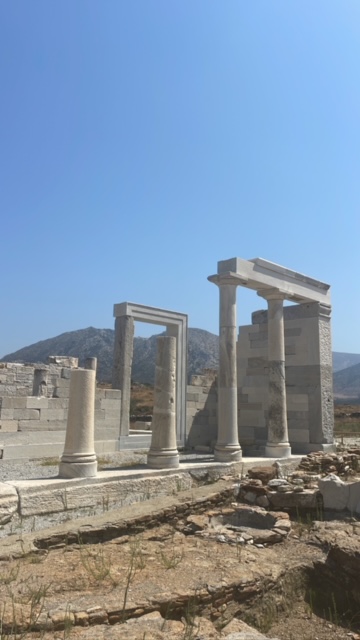 Our few days in Greek Islands have been amazing! Such good food, friendly people and if you stay and eat at the nice villages away from the ports it's all very affordable. Our favorite island on this trip was Milos as it was so rustic, quiet, and just had a good feel. Next was Naxos as the rocky mountain scenery was like nothing we had seen before. Lots of the restaurants serve food straight from their farms. Paros was great if you like busier areas, it was a real tourist hotspot and somewhere to go if you like spending your days ay the beach and enjoying the bars at night.
Teaching with Point to Point Education
If you're thinking of teaching in England with Point to Point Education, we would highly recommend adding Greece to your bucket list, ensuring you book it during your summer break!
Talk to the friendly team at Point to Point about supercharging your teaching career. The new school term starts in September and our schools are always looking for great overseas teachers.
Next on our 'teacher travels' tour was Brussels! This is a nice easy trip from the UK and you could even do it for a weekend! Whilst the 6-week UK…

Read More

The 6-week school break in the UK is the perfect time for teachers to travel around Europe. Whilst the holidays are coming to an end, we always get asked where…

Read More