Technology is something that is included in most of our everyday lives. It is so ingrained in modern day life that it is hard to go about the day without using it at some point.
This is something true of classrooms now. Many teachers in the UK are taking advantage of all it has to offer, using them as key learning tools. One way this is being used is through apps.
Here are some of the apps that teachers have found to be the best in their classrooms.

Fun apps to use for learning
Dualingo – Learning a foreign language has never been so convenient than with Dualingo. This free app helps students understand the language with proficiency tests. French, German, Italian and Spanish are just some of the languages that Dualingo supports.
Storybird – This app is renowned by teachers as fuelling creativity in students. There are tools to help create stories but also a whole library of books, picture books and poetry on offer to inspire reading and creativity.
Kahoot – Teachers can create quizzes through Google Forms to have students complete through this web-based app. Instead of regular quizzes, teachers can make them more fun and engaging this way. Each one can be customised to each student's level.
Spelling City – This app has 25 interactive games to help children with their spelling. Teachers love it because it is completely customisable. Teachers can make the words relatable to other lessons currently taking place and share students' progress with parents. It is web-based but also available on iOS. There is both a basic and paid version.
ClassDojo – This app makes record taking so easy, which is why teachers enjoy using it. Teachers can take attendance and track student behaviour easily. Students will see in real time their progress for the day, with the hope that it will reinforce good behaviour and keep kids on track. Progress reports can be printed out or e-mailed to parents.
Weather by Tinybop – Weather is full of interactive models that help the student learn the science behind weather patterns. You can jump right into clouds and help water droplets turn from a liquid to a gas to a liquid again as rain. You can also draw clouds and see how they change at different altitudes.
Scratch – This app is becoming increasingly popular amongst teachers who are teaching code. It is best for primary students at the beginning stages but will grow with the student to create some great programs.
Lego Movie Maker – This popular toy turns into an educational app with movie maker, allowing students to use mixed media to create a story. Students will need to add and delete appropriate frames, add soundtracks, and work with colours.
Stack the Countries – Geography is made fun with Stack the Countries. It engages the student in learning about countries, capitals, major cities, flags, historic landmarks and more. It is customisable, so the topics learned can be narrowed down. Teachers can track student progress with the various quizzes involved.
The benefits of using apps in the classroom
Apps are easy to use, and many classrooms are coming equipped with tablets for students to learn on. As long as they are compatible, apps can be loaded on there for each student to use. Parents can also be encouraged to download the apps on tablets at home or on mobile phones so that learning can continue away from the classroom.
Apps used for learning makes learning fun. Kids hardly even notice that they're learning when playing the educational games that are available. There are tasks that can be done independently and others that require group work; promoting teamwork and communication.
The right app can prove to be an invaluable classroom resource.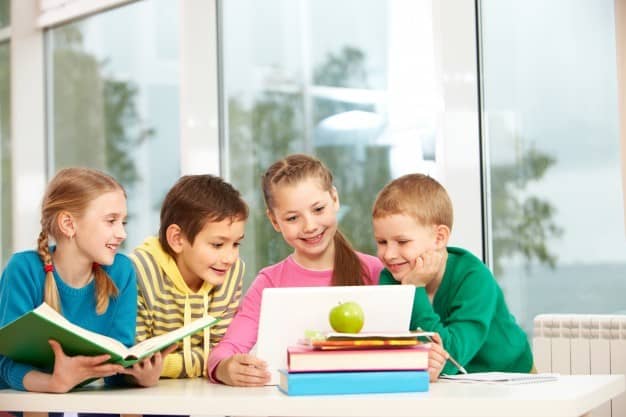 Not teaching abroad already? Contact Point-to-Point Education to learn about how we are facilitating teaching placements for Australians in the UK and how to join our team of amazing teachers.
Teaching abroad is full of excitement and nervous anticipation. When it comes to those sorts of experiences, few other feelings come close. And it takes time to get used to…

Read More

How about a tax-free salary for up to two consecutive years while getting valuable international teaching experience?! Did you know that you can earn and save more when you relocate…

Read More